Telangana reported two new cases of coronavirus from the Greater Hyderabad Municipal Corporation area on April 27 and none in the rest of Telangana. The drastic reduction in the number of new cases received a cautious welcome.
The two new cases in the GHMC region reported on April 27th, when added to the 540 shown on April 26, would result in 542 total cases. However, the total cases in the GHMC region were displayed as 556, leaving many confused.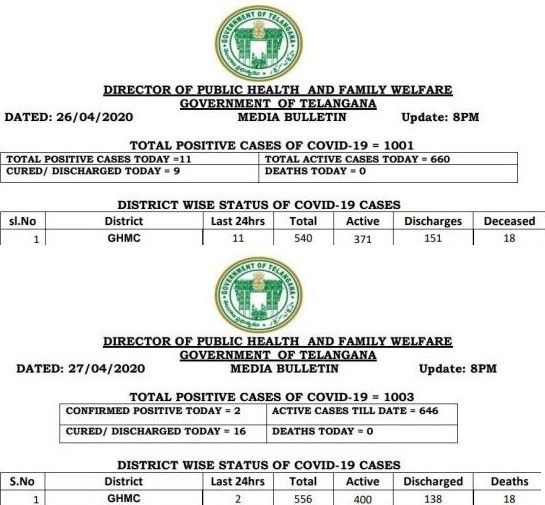 While it is entirely possible to make a miscalculation in mathematics, given one of the numbers is 2, the Internet seemed unconvinced of an error in simple addition.
Numbers added up everywhere else, and with the two new cases, the total number of those infected with COVID-19 went up from 1001 to 1003.
With sixteen people discharged in the last 24 hours, 646 cases of coronavirus remain active.
Questions raised on testing
Health Minister Eatala Rajender's Twitter account is abuzz with questions related to the number of tests currently being done in Telangana.
While the state of Andhra Pradesh releases the number of tests done each day, Telangana Health Bulletin does not carry such information.
Telangana Health Minister Eatala Rajender had not responded to any of the queries posed by his followers on Twitter.
You may want to read Andhra Pradesh coronavirus situation update from April 27th