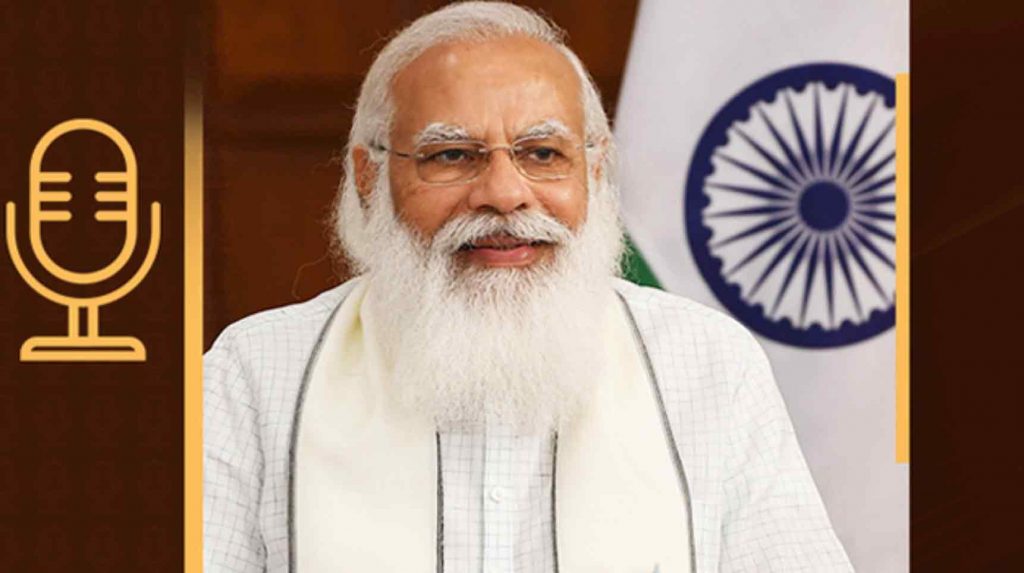 Prime Minister Narendra Modi commenced his 'Mann Ki Baat' (Thoughts straight from the Heart) on 25th July 2021 by wishing the Indian Athletes the very best at the ongoing Tokyo Olympics. The 79th episode of PM Modi's monthly discourse with the nation saw him discuss a range of topics at length. Let's look at some highlights from what the Prime Minister had said.
'Vijayee Bhava'
"Watching Indian athletes carry the nation's flag at Tokyo Olympics thrilled all of us. Let us all wish them the very best by saying 'Vijayee Bhava' (May you be Victorious)
We started 'Victory Punch program' on Social Media. Participate and also share the Victory Punch program for our team and and cheer for our Country.
When carrying the Indian flag and representing the country, naturally one gets emotional. This patriotism unites us all."
'Kargil Vijay Diwas'
"Tomorrow, the 26th of July is 'Kargil Vijay Diwas.'
Kargil war is a symbol of our soldiers' valor and restraint.
I hope you all read the thrilling events of the Kargil war. Let us salute those soldiers."
75 years of Independence to be celebrated as 'Azadi ki Amrit Mahotsav'
"This August 15th, our country is entering the 75th year of our Independence. We are fortunate to be witnessing such a moment. We are fortunate to witness such a moment.
Marking the 75th year of Independence, on the 12th of March, we started 'Amrit Mahotsav' from Bapu's Sabarmati Ashram. And that was also the day we resuscitated Bapu's 'Dandi Yatra.'
From Jammu Kashmir to Puducherry and Gujarat to the North East, 'Amrit Mahotsav' related events will be held to commemorate the 75th year of Independence.
There are many Freedom Fighters whose sacrifices are invaluable, and yet, we don't remember nor discuss them. But now the country is talking about them.
Take Moirang Day, for example. Moirang is a small town (kisbah) in Manipur. This was also a major base for Netaji Subhash Chandra Bose's INA (Indian National Army). Even before the Independence, INA Colonel Shaukat Malik ji hoisted the Indian Flag here. Again this year, on April 14th, our flag was hoisted here in the same Moirang, because of Amrit Mahotsav.
Government and Social Organizations are conducting many such programs.
Our Culture Ministry has also taken the initiative so that the maximum number of people sing our 'Rashtra Gaan' (National Anthem) on August 15th. With the help of Rashtragaan.in website, you too can sing and record. I hope that you will do so.
Many such programs will be witnessed over the coming days. 'Amrit Mahotsav' is not a government program or a political party's program. It is for crores of Indians. Every free and grateful Indian has respect for our Freedom fighters. The goal now is to walk in the steps of those Freedom Fighters. We need to commit to the development of our nation."
Unite India Movement
"We must live for the nation, and we must work for the nation.
Even minor contributions can bring about big changes. Even while carrying out our daily activities, we can still participate.
Be vocal for Local. For example, our country's Artists and Craftsmen can be supported. This must become a part of our nature.
On the 7th of August, National Handloom Day carries historical significance.
In 1905, it was on this day that a struggle for Independence had begun. Our Handloom Industry involves millions of people. Buy Khadi from them.
Electricity costs have gone up. Buy from our rural-area-made Handloom Industry and share it on social media as #MyHandloomMyPride.
It is natural to remember Bapu on that day. He led 'Quit India' back then. Now, every Indian must lead a 'Unite India Movement.'
We must have 'Amrit Sankalp' that the country is our strongest faith and also a top priority.
'Nation first, always first' is our mantra from now on"
Youth are listening and they are responding
Young friends, thank you for listening.
A study found that amongst those who send in their suggestions, 75 percent of them are under 35 years of age.
Constructive feedback helps me understand what you are thinking.
PM Modi names and appreciates citizens from different walks of life
The Prime Minister named and appreciated a few people from different backgrounds who rose to the challenge ahead and solved their problems even while generating income.
PM Modi appreciated the efforts of a young software engineer named Praneeth from Andhra Pradesh for assisting the farmers with weather predictions and also for suggesting what their ideal next crop would be.
Prime Minister Modi also praised Mr. Isaac Munda of Odisha for overcoming his humble background to become an Internet sensation. Mr. Modi pointed out that the cooking videos he posts on YouTube don't just generate income but also highlight the rural life and cooking to the urbanites.
The Prime Minister also praised IIT Madras Alumni for building a house with the help of a 3D printer.
PM Narendra Modi also narrated how a few people from Manipur including an Aeronautical Engineer, traveled to Himachal Pradesh to learn apple farming and how they had successfully grown apples in Manipur.
PM Narendra Modi pointed out that service to others cannot be equated to money and mentioned Mr. Sanjay Rana from Chandigarh for giving away 'Chole Bhature' for free to all those who get vaccinated. It is a noble act, the PM commended.
Highlighting the need for water conservation in the country, the Prime Minister reminded that coronavirus hasn't been eradicated yet and urged people to take all the precautions.