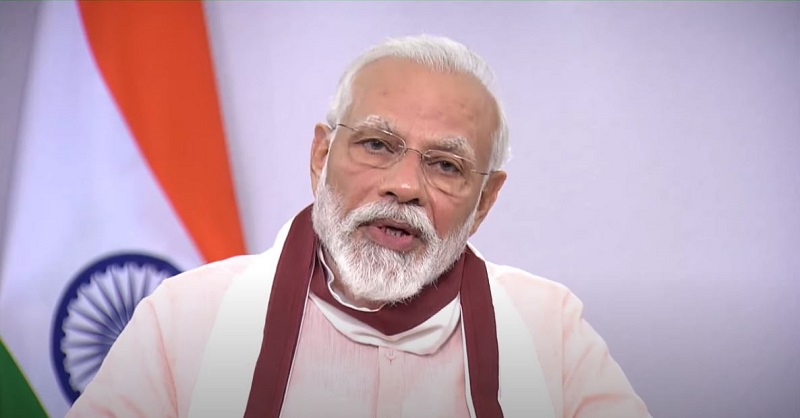 Prime Minister Narendra Modi called on the nation to be self reliant and self sufficient, naming his clarion call 'Atmanirbhar Bharat Abhiyan.'
Addressing the nation on May 12, Mr. Modi announced a package of Rs 20 lakh crores (approximately 262-265 billion dollars), ten percent of India's GDP, to offset the damage inflicted by the coronavirus.
While highlighting how 'Jan Dhan' facilitated the direct cash transfer to the weaker sections during the coronavirus lockdown, the Prime Minister acknowledged the plight of the weaker sections and said that they had displayed their patience to the world during this crisis. Big steps ought to be taken to address their hardships and to empower them, said the PM.
Here's what the Prime Minister said.
'On Coronavirus cases and fatalities'
It is now four months fighting the coronavirus; all countries are affected by it. More than 42 lakh people have contracted the virus worldwide, and over 2.75 lakh people have died.

In India too, people have lost their family members. My sympathy is with the bereaved. The world is now in a sort of a war, a war that was previously unheard of and is almost unbelievable. 
'On future course of action..'
This is an unprecedented crisis, but we will not break.
We will follow the guidelines and save ourselves from the coronavirus, but we must progress at the same time. We must strengthen our resolve further, stronger than this crisis.

The 'Lockdown 4.0' will have new guidelines.
On Atmanirbhar Bharat – Self-reliant India
Succeeding in the 21st century is not just a wish, it is now our responsibility, it is possible with a self-reliant India.
Self reliance will empower us.
We have to turn this crisis into an opportunity.
Previously we did not manufacture either N95 masks or the PPE Kits, but now we make 2 lakh masks and PPE Kits each day in India.
When we speak of self-reliance, we do not speak of being self-centred.
India's culture speaks of self-reliance based on 'Vasudhaiva Kutumbakam,' we think of the world as our own.
Look at our contributions towards the well-being, whether it be the International solar alliance or the International Yoga Day. Yoga eases stress from daily life.
We have a glorious history, and we were prosperous. We aimed for 'Lok Kalyan' (the world's wellbeing), but then the country was caught in 'Gulaami ka Zanjeer' (Chains of slavery). People looked for development after that. Even today, we want Vishwa Kalyan (the world's wellbeing).
We have talent, we will make the best products, and we will modernise our supply chains. We can do it, We will do it.
I have seen the massive destruction from the Kutch earthquake. We endured and thrived, that is our will power.
No goal is impossible, no path is difficult. Where there is will, there is a path.
'Self-reliance based on five pillars'
Our self-reliance will be based on five pillars

1. Economy – not an economy of incremental change but that which brings a quantum jump.

2. Infrastructure – An infrastructure that defines and reflects modern India.

3 – System – A technology-driven system that realises the dreams and aspirations of the 21st century.

4 – Demography – The vibrant demography in our biggest democracy.

5 – Demand (There is a huge potential in our system that can be tapped. To meet our demand and supply, we will strengthen our supply chain.
Be vocal for local
Local market, Local supply chain, these things we understood better in the time of crisis. Domestic supply is what saved us in crisis. 'Local' is not a necessity; it is a responsibility.
Every global product that we see now was once a local product. From today onwards, every Indian should be vocal for local, buy local products, and advertise for them.
'The Package'
Today's package, along with the measures previously announced by the Finance Minister and the RBI, amounts to 20 lakh crores.
The relief package will address all sections of the society – Small scale Industries, Cooperatives, MSME, the labour force etc.

Farmers toiled hard throughout the crisis; the package will address their needs.
This package is for all the loyal taxpayers, the employees, all those who contribute to our nation's development.

In both organised or unorganised sectors, everyone will have something in the package. The coronavirus explained the significance of local manufacturing.
Reforms
We need bold reforms.
In the last six years, we brought about reforms, and we stood resilient now, or else money sent by the government could not have reached the beneficiaries, especially when everything was shut. "Jan Dhan, Aadhaar and Mobile – JAM" powered the reform that we have seen.
We have to expand those reforms, including the Agriculture sector.
Rational tax reforms, a law that is easy to understand, a better Infrastructure, a Strong Financial system, etc. These are the reforms that will enable the vision of 'Make in India.' We aim for Qualitative services.

Coronavirus shook all the major systems in the world, but the economically afflicted in India have shown their patience to the world. The Street vendors, maids, etc., have all faced hardships. We have to make them strong; we have to take big steps."