Giving the full breakdown of the 20 lakh crore relief package in her fifth and final briefing on the subject, Finance Minister Nirmala Sitharaman on May 17, also announced raising the borrowing limit of the states from 3 to 5 percent of the GSDP (Gross State Domestic Product). However, only 0.5 percent of the raise is unconditional. Rest is linked with the implementation of reforms.
Under the Fiscal Responsibility and Budget Management (FRBM) Act, states are currently allowed to borrow up to 3 percent of the GSDP.
Reforms, please.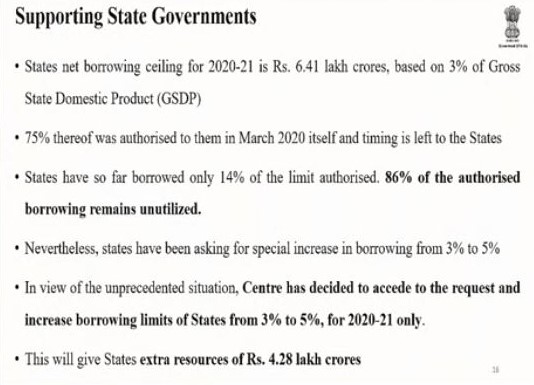 Beyond 3.5 percent of the GSDP, that is, after the 0.5 percent unconditional raise, this is what the Finance Minister had to say.
"3.5 to 4.5 percent will be released in tranches of 0.25 percent linked to specified, measurable and feasible reform actions, to ensure that the poor will benefit from the money borrowed"
The reforms mentioned by the Finance Minister are –
1 – One Nation One Ration Card
2 – Ease of doing business
3 – Power Distribution
4 – Urban local bodies
And the final 0.5 percent will be given if the states reach milestones in at least three of these reforms.
The Breakdown of the Package
The 20 lakh crore coronavirus relief package is inclusive of the previous measures, said the Prime Minister in his announcement, but to what extent, was made clear in today's briefing. Here is a breakdown of the package.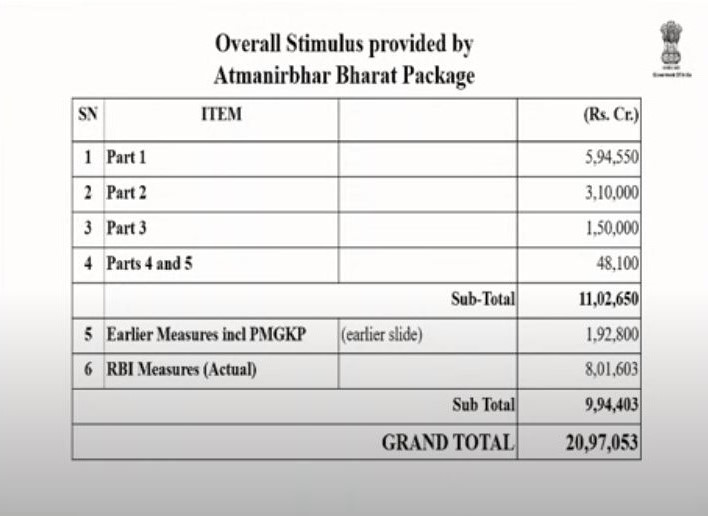 Nirmala asks if Rahul Gandhi did not resort to theatrics
Reacting to a question from a reporter on the plight of the Migrant workers, the Finance Minister asked if it was not 'Dramebaazi' on the part of Rahul Gandhi to have sat with Migrant workers instead of helping them.
Mr. Gandhi had been vocal in his condemnation of the inaction over the hardships faced by the migrants across the country. Sonia Gandhi, the working president of the Congress party, had earlier offered to pay for the tickets if the government would not pay.
The government, however, maintains that it has been clear with state governments that the centre would bear 85 percent of the ticket price, while the states pay for the remaining 15 percent.
The Finance Minister, accompanied by MoS Anurag Thakur and officials of the Ministry, had insisted throughout the relief package briefings that funds were released to the SDRF (State Disaster Response Fund) to shelter and feed the urban poor.