Indian Men's hockey team quenched a 41-year-old drought with a Bronze medal at the Olympics, defeating Germany 5-4.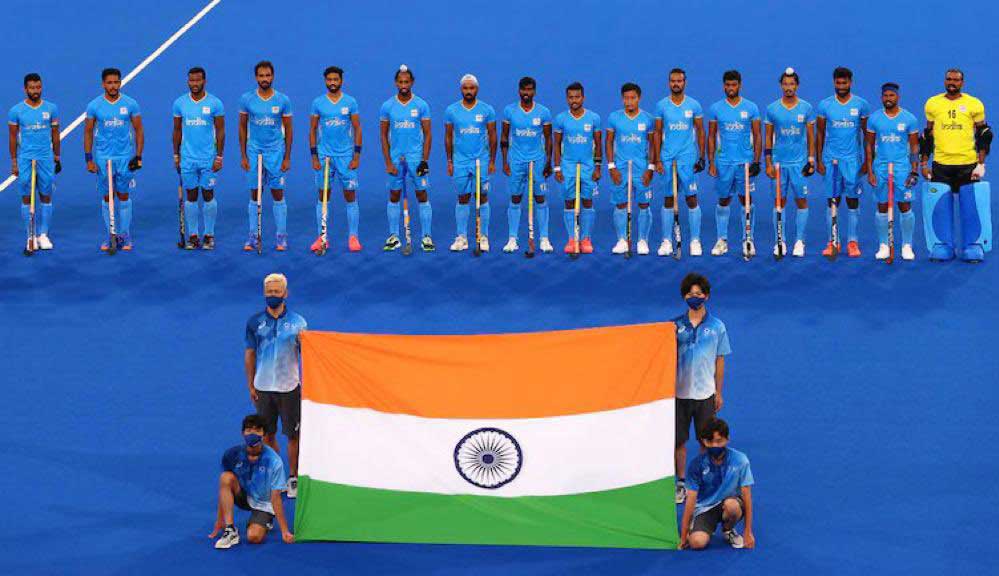 The match for Bronze at the Tokyo Olympics saw Timor Oruz score a goal in the 2nd minute to give Germany an early lead. Both teams managed to save their goal post for the rest of the first quarter.
India tied the score early in the second quarter. Simranjeet complimented Nilakanta Sharma's long ball and scored a goal with a reverse hit.
However, the Germans managed to take the ball from Nilakanta Sharma the next time around, and Niklas Wellen scored for Germany in the 24th minute with a reverse hit.
As Germany kept up the pace, Benedict Furk hit a goal immediately at the 25th minute.
Not budging at the German lead of 3-1, India kept up the attack and Harmanpreet scored successive goals at 27th and 29th minutes with drag-flicks to tie the score 3-3.
Soon after, in the third quarter, at the 31st minute, Rupinder Pal Singh converted a penalty corner to a goal giving India a lead for the first time.
Simranjeet Singh struck another goal at the 34th minute giving India a 5-3 lead. This is also the fourth consecutive goal by India, a comeback of sorts after being led 1-3 early on.
In the tightly contested last quarter, Lukas Windfeder's drag-flick goal reduced India's lead to 5-4.
Indian attack and defense both being consistent and the goalkeeping by Sreejesh brilliant, Germany could not manage another goal in the final minutes, losing the fight for Bronze.
India's Bronze medal is the first medal the country has won in the Olympics Men's Hockey, after the Moscow Olympics in 1980. Once the Titans of the game, 8-time Olympic Champions, the Indian men's hockey team could not get their hands on a medal up until now. The congratulations poured in soon after.